Frequently Asked Questions
To log in to the site, simply click on the 'Account' button
Enter your username and password you normally use to log into www.flowtech.co.uk
Please note, you need to enter your password in UPPER CASE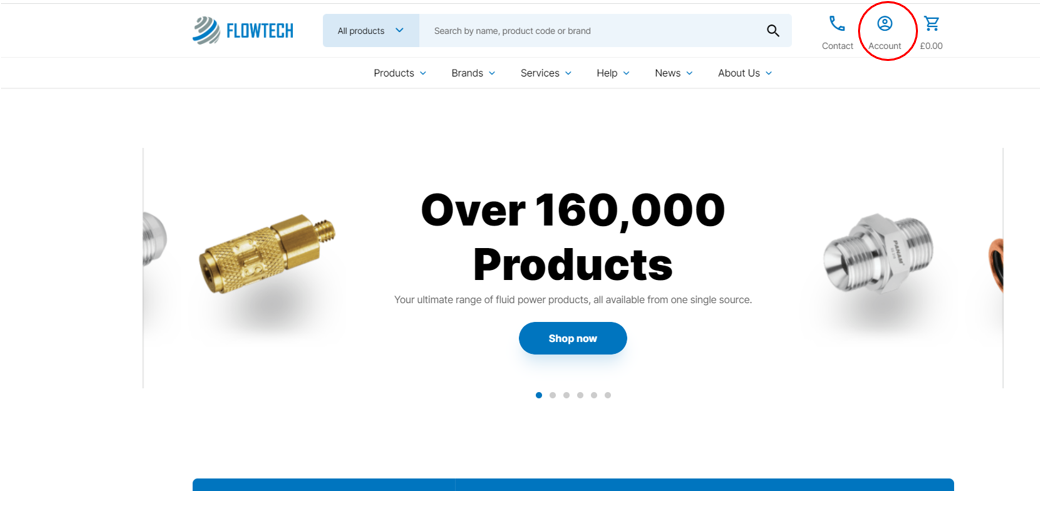 Click 'Login to account' to access your account: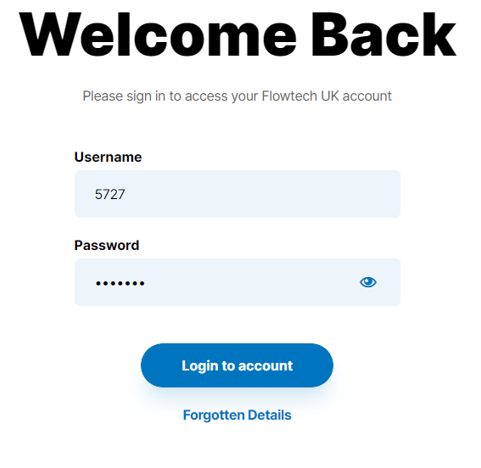 If you can't remember your username or password, click on the 'Forgotten Details' link: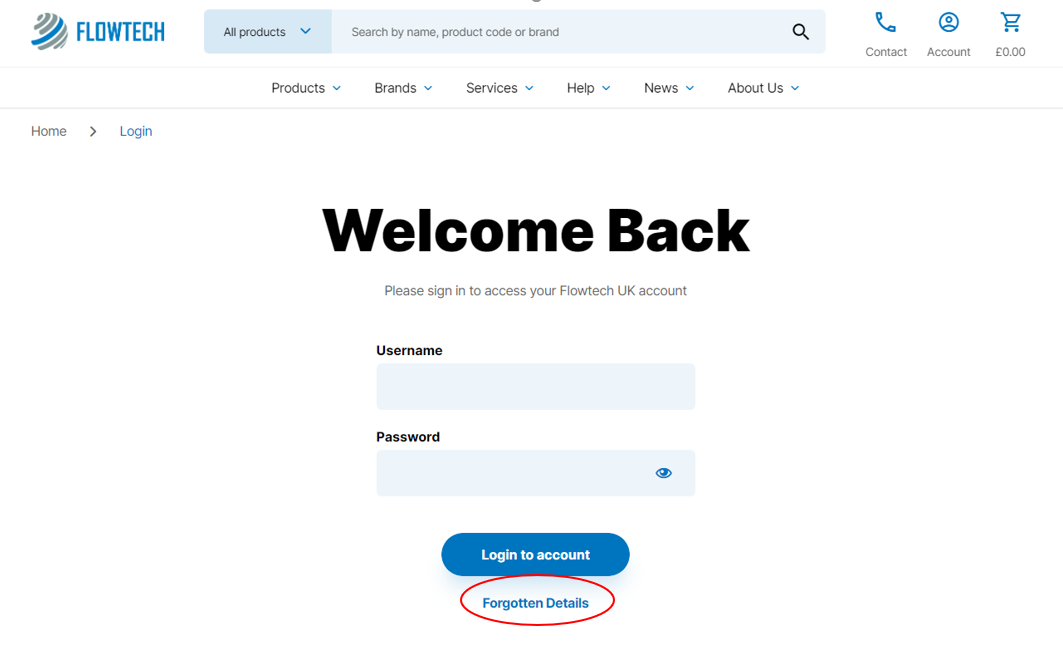 Follow the on screen step to receive an email which will remind you of your username or will reset your password.
If you do not receive an email, please get in touch via email at websitepasswords@flowtech.co.uk
Enter your username and password you normally use to log into www.flowtech.co.uk
Please note, you need to enter your password in UPPER CASE
If you know the part number(s) you wish to order, simply add them and the quantity you require to the quick add basket on the right of the screen.
If you need to order more products, select '+ Add another 3 products'
Once you have added all of the products you need click 'Add to basket'
You can also add item to your basked by using the navigation bar at the top of the page?
Or by searching for a product:

Simply click on the product, select the desired quantity and 'add to basket'
Once you have all of the items need, click on the basket icon in the top right of your screen.  This will take you to your full shopping basket.  If you are happy to proceed, select check out:
Select your delivery method
Check the correct collection/delivery addresses are selected  and then choose 'Continue to Delivery Details'
Review the full delivery details including carriage, add your own order reference and additional information if required and proceed to the next step.
Review your fill order details and select confirm:


On pressing confirm, your order will be added to our system and you will see a summary on screen.  You will also receive an order confirmation via email.
On the Delivery Details page, click on the drop down box to select your preferred service from a range of delivery options.
On the Delivery Address page, you have the facility to add or search for a 'direct to customer' address. Under the 'Direct to Customer' address options, simply use the dropdown to select an alternative address, or if shipping for the first time fill in the new address.
If you require a new company branch address setting up, please contact the Call Centre on 033 000 22 223.
Yes. Simply login to your account, go to 'My orders' where you can see you orders.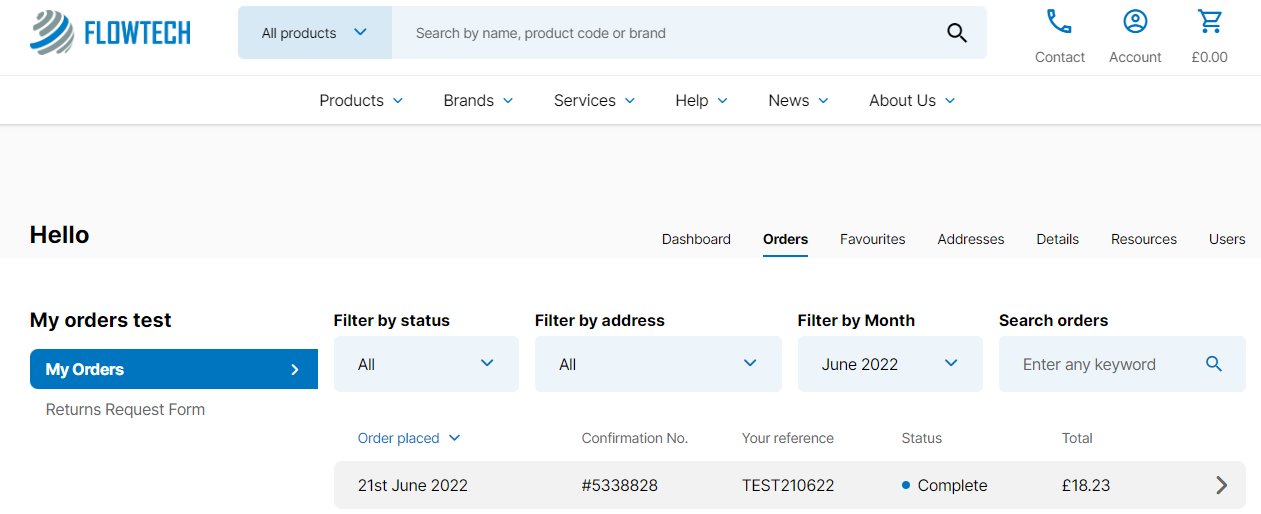 Click on the order for more details: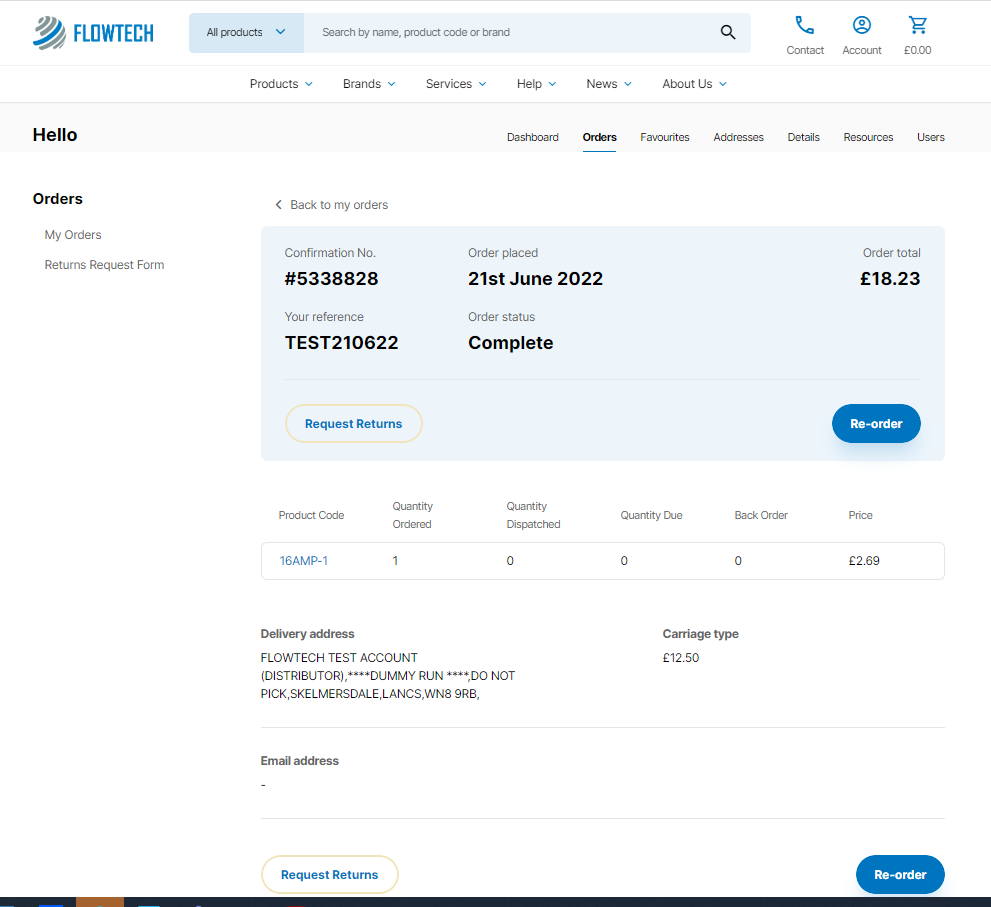 Yes, you can see your order history via the My Orders Section.  You can filter by status (all/outstanding/complete), address or month.  You can also search by keyword.
Technical Datasheets can be found on the product listing page. Simply click on the link to download the datasheet: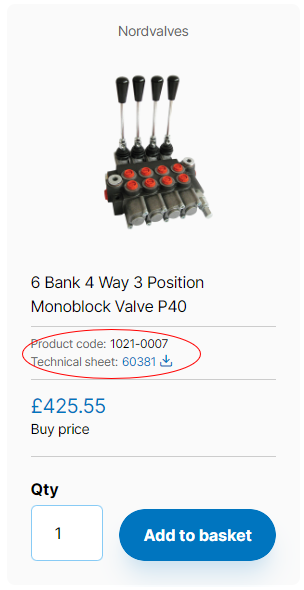 They can also be found by entering the technical sheet number into the search box at the top of the page.  The results will show all products associated with the techsheet. Simply click on the link to view the sheet:
You can add colleagues to your account, so that they can place orders on your account. Please note, they will be able to see your account details, buy prices etc.
Log into your account and select 'Users'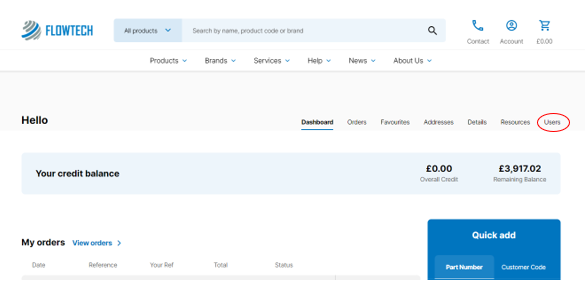 Click 'Add new user'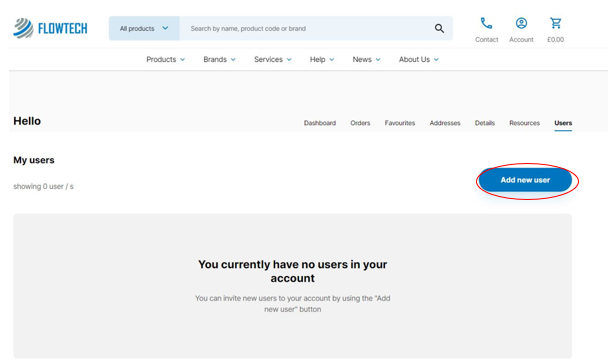 On the next screen, enter the email address of the colleague you would like to invite.  This will send an email invitation to your colleague so that they can set up their own username and password on your account: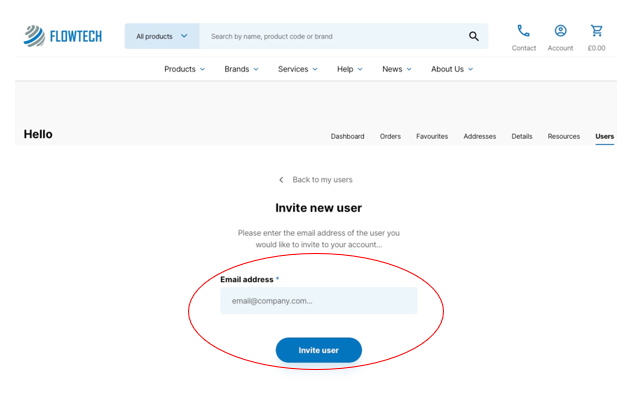 Our system will always show a charge per order but this is removed automatically when the invoicing is done the following day.
Please contact our Web Helpdesk on +44 (0) 33 000 22 223.
This is done both for security reasons and also for accurate stock management purposes. However, if you have several items in your basket and are interrupted, you can quickly save your basket and retrieve later. Please use the 'Save Basket' function on the basket page. Favourite baskets can then be retrieved by visiting the 'Favourite Baskets' section under My Account 
If you have not received your order within the requested delivery service window, or if you wish to report a problem with the goods you have received, please contact our Customer Services Team on +44 (0) 33 000 22 223.
You are specifically required to examine the goods and any query relating to the delivery must be notified within 4 days of receipt. Please view our terms and conditions relating to raising a complaint with Flowtech
Once 'submit order' is clicked, your order is sent immediately to our Distribution Centre to process for delivery. If you need to amend or cancel an order, please contact our Sales Centre on +44(0)845 456 1222) as soon as possible.  Whilst we cannot guarantee that the order will be amended, we will do everything in our power make the change you request.
If you wish to cancel an item on back order, you must request a Cancellation Number from Customer Services. Credits will not be processed without reference to a specific Cancellation Number. For the avoidance of doubt, items not listed in the Catalogue are non-cancellable and non-returnable. Once an order for direct shipment from a supplier is in process, we are unable to either amend or cancel the request.
Hopefully you won't need to return an item, however, if you do, we aim to make this as simple as possible. Please refer to our business terms and conditions for full information 
Should any defects develop under proper use of the goods supplied within a period of 12 months after delivery as a consequence of design, materials or workmanship then we will make good by repair or replacement any such defect providing the defective goods are returned to us promptly. Please see full terms and conditions for procedure 
Items which are available same day can be ordered online or via our Call Centre and collected from our warehouse collection point at Pimbo Road from 8am until 6pm. Please allow one hour before the collection of any orders.