RSB's quality range of Hydraulic Tube Clamps have been manufactured to the highest specifications using quality materials and conforms to DIN 3015 and DIN 3570 Standards.
The vast range includes:
Light, heavy and double units in sizes ranging from 6mm to 168.3mm. Body materials of polypropylene, polyamide, rubber and aluminium, also with plates and bolts in steel (zinc plated) and stainless steel offering anti-corrosion and fire retardant options. U bolts, pipe saddles, steel clamps and O clamps are available.
The range is tried, tested and used extensively throughout the world's manufacturing facilities and in the mobile plant industry.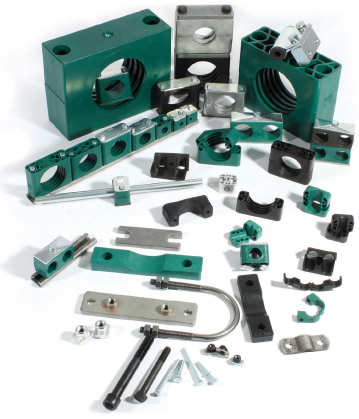 Applications:
Hydraulics
Construction
Agriculture
Mining
OEM Machine Building
Offshore
Marine
Automotive Technology
Machine Tool
Lubrication Systems
If you have any requirements for sizes or types of clamps not shown in the catalogue, please contact a member of our sales team.
We found 1109 products matching
RSB
Showing 1 - 24 of 1109 products